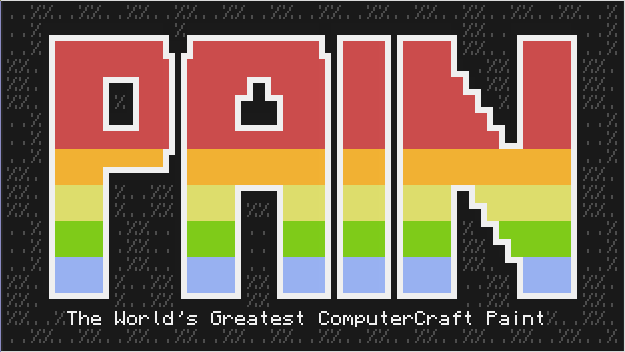 pastebin get wJQ7jav0 pain
wget https://github.com/LDDestroier/CC/raw/master/pain.lua
std pb wJQ7jav0 pain
std ld pain pain

Syntax:
pain <filename> [view (displays the picture and exits)] [x] [y] [frameNo]
pain [-n] --no argument will also create new image
pain -h/--help

PAIN
is an advanced, yet simple-to-use paint program that can be used to make artwork in ComputerCraft better and faster than ever!
PAIN automatically converts images from
NFP
(used by paint),
NFT
(used by npaintpro),
BLT
(used with the BLittle API),
GIF
(used with real paint programs), and
UCG
(used by silica). You can export to these formats too!
It also supports frames, which allows you to save multiple images in the native format and BLT as one file.
Controls:
Screenshots:
The bad stuff...
Demonstration video:
Edited by LDDestroier, 04 February 2020 - 02:05 AM.